The future of work is hybrid, with some homeworkers set to gradually return to the office as the world reshapes around the pandemic. As we start venturing out, we're likely to be carrying much more of our own tech and accessories, particularly high-touch peripherals like keyboards and mice.
At Targus, they have developed a three-level system of antimicrobial protection, so you can find the protection you need for the things you use every day: Basic Protection; Integrated Protection; and Active Protection.
Level 1: Basic Protection
Level 1 relies on "barrier" protection. Antimicrobial products such as styluses and keyboard covers provide a protective layer between the user's fingers and the technology they touch, reducing the risk of contamination. The most frequently touched surfaces are where the most bacterial growth occurs. The Basic Protection products help reduce the risk from these high-touch surfaces in the simplest ways possible.
Level 2: Integrated Protection
Level 2 uses DefenseGuardTM Antimicrobial Protection. Silver-based antimicrobial agents are infused into products, providing lifelong protection. DefenseGuardTM products are proven to prevent and eliminate 99.9% of bacterial growth. These antimicrobial products from Targus include bags, cases, keyboards, and mice. Don't worry about durability; DefenseGuardTM products stay clean and intact through washes and wear.
Level 3: Active Protection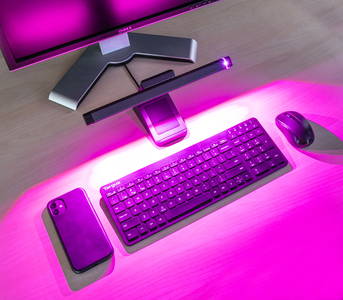 Level 3 antimicrobial protection uses UV-C disinfection system. The Targus UV-C LED Disinfection Light actively eliminates bacteria and viruses from devices with UV light. This low-maintenance automated disinfection system is the most effective antimicrobial solution for the protection of your devices and your health.
For further information or to get a quote on any of these products, click here.